Our locations
Virginia
We have a satellite office in Virginia that handles all our clients in the Virginia part of the Washington Metropolitan Area. Please dont hesitate to cantact us for all your comprehensive IT Solutions. Our Virgina branch is located in the Reston - Herndon IT Corridor.
Chicago
We just opened another branch in the Niles area of Chicago to serve our Chicago clients. If you need any of our services, please contact us and we will be very happy to work with you. We look forward to hearing from you.
Thank You.
Primary contacts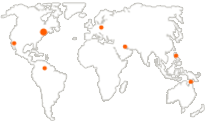 Lucton Technologies, Inc.
113 Galyn Drive,
Brunswick, MD 21758.

Direct Line:

+1 240-671-7755

Direct Line:

+1 443-212-8338

E-mail:

info@luctontechnologies.com
Please Lets Know What You Think
We strive to treat every customer or potential customer with respect and as royalty and will do anything to make you completely satisfied. Remember, there is nothing like never being satisfied and if there is something that we can do to fix your concerns, we will do it.
For any thoughts, concerns or comments, please feel free to send us an email or fill out the form below and submit it to us. We guarantee you someone will be in touch with you within 24 Hours. That's our promise.